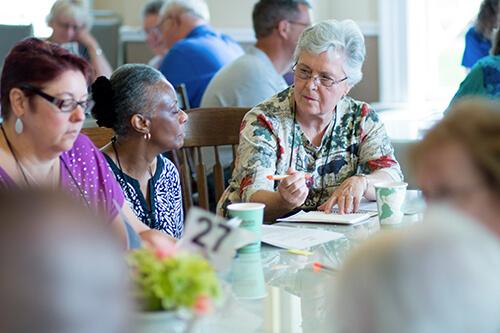 "The ministry of laity flows from a commitment to Christ's outreaching love. Lay members of The United Methodist Church are, by history and calling, active advocates of the gospel of Jesus Christ. Every layperson is called to carry out the Great Commission (Matthew 28:18-20); every layperson is called to be missional. The witness of laity, their Christ-like examples of everyday living as well as the sharing of their own faith experiences of the gospel, is the primary evangelistic ministry through which all people will come to know Christ and The United Methodist Church will fulfill its mission."
Book of Discipline, paragraph 127.
An effective Lay Leader functions as the primary representative of and role model for Christian discipleship and faith lived out in the church and in daily life for the people of a congregation. The Lay Leader works with the pastor to fulfill the mission and vision of the congregation.
To learn how to be equipped as a Lay Leader visit the Discipleship Ministries of the United Methodist Church website.