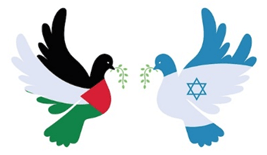 Rev. John Wagner has had a long time interest in the history and politics of the Middle East. As a member of the Middletown Area Ministerial Alliance, John has organized an event for clergy to hear from two experts on the Middle East - Dr. Awad Halabi and Dr. Elliot Ratzman. Dr. Halabi is a professor of Middle Eastern History at Wright State University, and Dr. Ratzman is professor of Judaic Studies at Earlham College.
Is Peace Possible in the Middle East? will be presented on Tuesday, November 21 at First Baptist Church in Middletown and is open to clergy of all denominations and faith perspectives. Drs. Halabi and Ratzman will share their perspectives and then offer a time for questions and informal discussion. This unique presentation will help you become better informed on the current crisis facing Israel, Palestine and the United States.
Note: The views expressed by the presenters are theirs alone.
Please RSVP to Rev. John Wagner, johnwagnerumkr@gmail.com
Location:
First Baptist Church of Middletown
4500 Riverview Ave, Middletown Ohio 45042

Date:
November 21, 2023

Times:
3:30-5:00pm or
7:00-8:30pm
Email
johnwagnerumkr@gmail.com