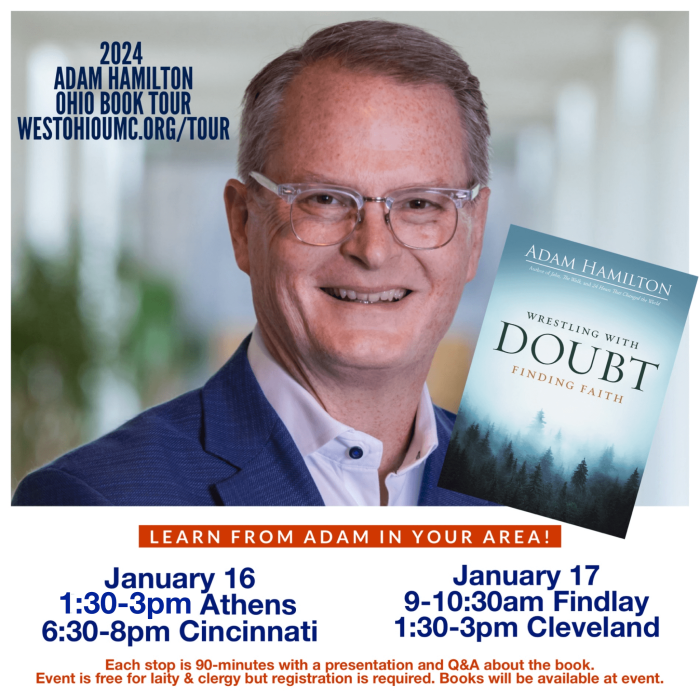 Rev. Adam Hamilton is touring Ohio with the release of his upcoming book, "Wrestling with Doubt, Finding Faith." This is an incredible opportunity to learn from a successful author of church resources and pastor of one of the most influential churches in America, The United Methodist Church of the Resurrection in Kansas City. Each stop will be 90 minutes with a short presentation followed by a Q & A about the book. The event is free, but registration is required. Books will be available to purchase on site.
About Wrestling with Doubt, Finding Faith (releases December, 2023)
Does your faith make room for questions?

Everyone has doubts. Where is God when bad things happen? Does God hear our prayers? Is there a heaven? How can we know? Often we treat such questions as the enemy of faith. But uncertainty doesn't mean our belief is lacking. Doubt can be a path to a deeper, richer encounter with God.

In Wrestling with Doubt, Finding Faith, join best-selling author and pastor Adam Hamilton as he discusses some of our most significant sources of doubt and shows how a steady trust in God can emerge from them. You will delve into questions like:

"Does God exist? How can I know?"
"Is the Bible true?"
"Why do prayers go unanswered?"

Hamilton approaches these sources of doubt with honesty and insight, drawing on the rich wisdom of the Bible, Christian tradition, and his experience walking with thousands of people on their spiritual journey. Whether you're a longtime Christian or someone brand new to faith, this book will lead you to a trust in God that is unafraid of hard questions. Wrestle with doubt and find faith—belief and trust, not certainty; mystery rather than simple answers.

Books will be available to purchase at each stop.
If you are looking for Bishop Palmer's Leadership Clinic with Adam Hamilton on January 16 on the Future of the UMC, CLICK HERE. The book tour will be different.
JANUARY 16, 2024
ATHENS: Central Venue | 29 E. Carpenter Street, Athens | 1:30-3PM Click here to register
CINCINNATI: Mason UMC | 6315 S Mason Montgomery Rd, Cincinnati | 6:30-8PM Click here to register
JANUARY 17, 2024
FINDLAY: St Marks UMC | 800 S Main Street, Findlay | 9-10:30AM Click here to register
CLEVELAND: Strongsville UMC | 13500 Royalton Rd, Strongsville, OH | 1:30-3PM Click here to register
About Adam Hamilton:
Adam Hamilton is founding pastor of The United Methodist Church of the Resurrection in Leawood, Kansas, one of the fastest growing, most highly visible churches in the country. The Church Report named Hamilton's congregation the most influential mainline church in America, and he preached at the National Prayer Service as part of the presidential inauguration festivities in 2013. Hamilton is the best-selling and award-winning author of The Call, Love to Stay, The Journey, The Way, 24 Hours That Changed the World, Revival, Not a Silent Night, Enough, When Christians Get It Wrong, Seeing Gray in a World of Black and White, Speaking Well, John, Moses, Unafraid, Half Truths, Faithful, Forgiveness, Simon Peter, The Walk, Incarnation, The Lord's Prayer, Prepare the Way, and Luke all published by Abingdon Press.
Adam has been married 40 years to LaVon. They have two grown daughters.